The Communications Commission discussed its Decisions aimed towards Market Development with ITU and fellow Regulators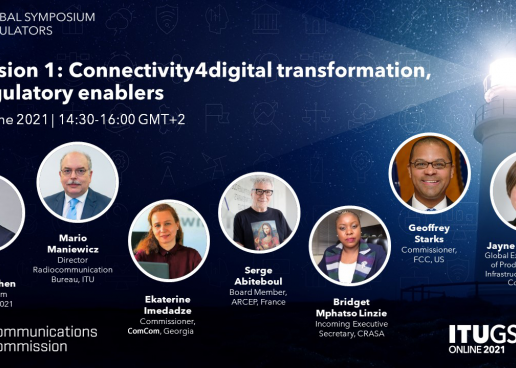 Commissioner Ekaterine Imedadze participated as a speaker at the 2021 ITU Global Symposium for Regulators and presented the steps taken by the Communications Commission to develop the telecom sector and establish a competitive environment. During the plenary meeting, members of the symposium learned about the vision and activities of the Commission related to market development and promotion of the competition.
Together with fellow regulators and leaders of international organisations, including the Chairman of BEREC and the FCC Commissioner, Ms Imedadze discussed the measures implemented by Georgia based on the recommendations of ITU and other international organisations, as well as the existing challenges. Specific topics included the importance of ensuring liberalization of the mobile and fixed internet market, the necessity of sharing infrastructure, and the importance of supporting small and medium telecom operators. The discussion also concerned the role of the regulators in stimulating investment, promoting technological development and ensuring accessibility of diverse telecommunication services. High-ranking representatives of the telecom sector and regulatory authorities from different countries shared their experiences with each other.
The Global Symposium for Regulators (GSR-21) is an annual event organised by the International Telecommunication Union (ITU), involving regulatory bodies from across the world and their regional unions. The main theme of this year's symposium was "Regulation for Digital Transformation: Accelerating Inclusive Connectivity, Access and Use."