Renee Hobbs Holds a Public Lecture for Students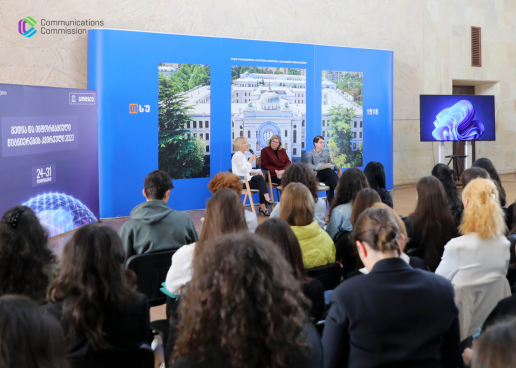 Within the framework of the Global Media and Information Literacy Week, the Communications Commission invited leading international digital and media literacy expert, founder of the Media Education Lab and author of 12 books on media research and education, Professor Renee Hobbs, to Georgia. During the public lecture for university students held at the Tbilisi State University, Renee Hobbs explained the importance of media literacy to the audience. The hybrid meeting was attended by a total of 100 students and interested parties.
The event was opened by ComCom member Natia Kukuladze, who talked about the role of the Communications Commission, the purpose of the Global Media and Information Literacy Week, and the necessity of media literacy skills in the age of information. Opening speeches were also made by TSU Vice-Rector Nino Gvenetadze, who spoke about the importance of the meeting with Professor Hobbes.
The meeting discussed the importance of media literacy for democratic societies in the conditions of political polarisation, as well as the current trends in this field and the existing global challenges to the teaching of media literacy: "We are facing challenges to democracy and political polarisation, so we need new ways of teaching media literacy, as it protects us from stereotypes, manipulation and fake news. It also allows us to have control over our decisions so that we can make the right choices," Renee Hobbs stated.
At the end of the public lecture, participants had the opportunity to ask the professor questions about the issues of interest to them.
The 2023 Media and Information Literacy Week opened on 24 October with a meeting with teachers on the subject of integrating media literacy into formal education, followed by the Media Literacy Day. Other scheduled events include the meeting of "Hello Ruby" author and EC digital ambassador Linda Liukas with teachers and parents, a global media literacy hackathon for young people, and a public lecture for students by international media literacy expert, Professor Renee Hobbs. The Media and Information Literacy Week will conclude on 31 October with a summary conference, which will include panel discussions involving senior representatives from the Ministry of Education and Science of Georgia, United Nations, European Union, UNICEF and World Bank.
The Media Literacy Week, which aims to raise public awareness about the importance of media literacy, has been held annually following the 2021 UN resolution.