Communications Commission Publishes ComCom Digest for the Month of May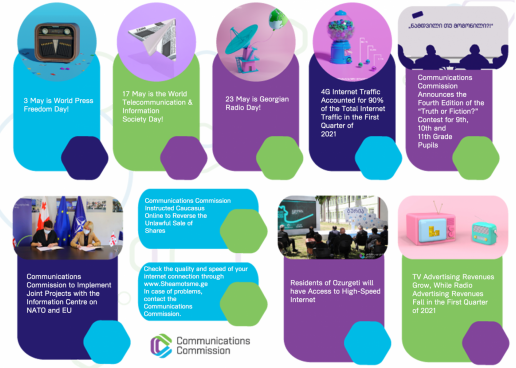 The Communications Commission has published ComCom Digest for the month of May, which provides an overview of the activities and important decisions taken by the Commission over the past month.
ComCom Digest includes information about the advertising revenues of TV and radio broadcasters. In the first quarter of 2021, advertising revenues of TV broadcasters increased by 3% compared to the same period of 2020 and amounted GEL 14.5 million, whereby direct advertising and sponsorship accounted for GEL 13.2 million. At the same time, advertising revenues of radio broadcasters decreased by 24% compared to the same period of 2020 and amounted GEL 1.4 million. Full breakdown of advertising revenues by broadcasters is available in ComCom Digest.
The May edition of ComCom Digest also outlines the Commission's latest decision related to the Caucasus Online case. Last month, the Commission once again ruled that Caucasus Online violated the legislation by unlawfully selling 100% of its shares and instructed the company to reverse its shareholding to the pre-sale status quo within three months.
ComCom Digest also offers information about the pilot project launched in the Municipality of Ozurgeti as part of the State Internetization Programme. The Log in Georgia project will enable access to high-speed broadband internet for up to 29,000 people in Ozurgeti. Detailed information about new opportunities offered by the project can be found in ComCom Digest.
The latest Digest also includes information about the media literacy projects implemented by the Communications Commission. Last month, the Commission and the Media Academy announced the fourth edition of the media literacy contest "Truth or Fiction?" for the 9th, 10th and 11th grade pupils. The Commission will also implement joint projects with the Information Centre on NATO and EU to develop media literacy and raise public awareness about Georgia's integration in NATO and the European Union. These projects will help develop media literacy and European values in our country.
ComCom Digest also offers the latest internet usage statistics and information about the increased use of 4G technology. Furthermore, readers can find out more about the platform www.sheamotsme.ge and learn how to act if the speed and quality of their internet connection is below standard.