Communications Commission Publishes ComCom Digest for the Month of June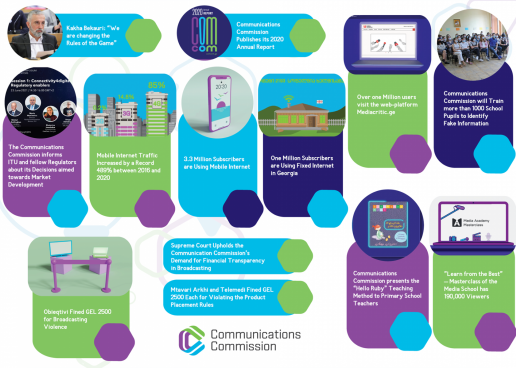 The Communications Commission has published ComCom Digest for the month of June, which provides an overview of the activities and important decisions taken by the Commission over the past month.
ComCom Digest presents the 2020 annual report of the Communications Commission, which includes detailed information about the work performed by the Commission during the previous year. An extensive interview with the Chairman of the Commission is also part of the annual report.
Further, the June edition of ComCom Digest includes information about the ruling by the Supreme Court of Georgia that instructs broadcasters to comply with the Commission's decision regarding financial transparency.
Readers will receive information on sanctions imposed by the Communications Commission on TV Obieqtivi for broadcasting violence.
The latest ComCom Digest also includes information about the media literacy activities implemented recently by the Commission, whereby 10 schoolteachers were trained in using the "Hello Ruby" teaching method, while up to 1000 pupils were taught to detect fake news.
The June edition of ComCom Digest presents statistics on internet usage, changes in internet traffic between 2016 and 2020, information regarding the number of subscribers using fixed and mobile internet, the number of visitors using the web-platfom www.mediacritic.ge, and the number of participants of the online masterclass of Media Academy.