Residents of Ozurgeti will have Access to High-Speed Internet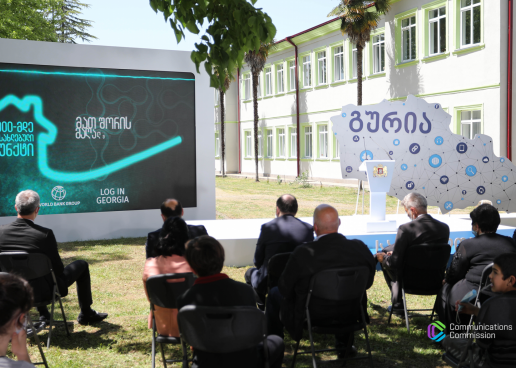 The pilot project of the State Internetization Programme has been inaugurated inOzurgeti Municipality. The project, which will enable up to 29,000 people to access high-speed broadband internet, was officially launched today by the prime minister of Georgia Irakli Gharibashvili. The event was attended by Commissioner Natia Kukuladze, Minister of the Economy Natia Turnava, Minister of Education and Science Mikheil Chkhenkeli, iDrector of Open Net Mariam Sulaberidze, and Regional Director of World Bank Sebastian Molineus.
With the support of the Communications Commission, Open Net constructed 140 km broadband infrastructure in Ozurgeti Municipality. The project will provide 100 Mbps broadband to each family, and 1 Gbps broadband to public and private organisations. Access to broadband internet will allow the population of Ozurgeti to use electronic services.
In parallel to developing the broadband infrastructure, Open Net will implement the Log in Georgia project together with the Communications Commission, and with the support of the World Bank. The project will enable 1000 settlements and 500,000 people in Georgia, including the population of mountainous regions, to access high-quality broadband internet and make use of digital services such as electronic healthcare, remote learning, electronic governance, etc.
In order to raise awareness in selected settlements, the Communications Commission will use special training programmes and technology to help citizens develop appropriate digital skills and benefit from various electronic services. Furthermore, special events will be held in target settlements to help women, ethnic and social minorities and disabled people use the internet and digital services. The project will ensure that the rural population and regional enterprises have access to the same opportunities as the urban population.
Based on the national strategy for the development of digital economy, the regulatory reforms and policies of the Communications Commission will be aimed at providing the rural areas (particularly the mountainous regions) with necessary infrastructure to access high-speed broadband internet. Regulated pricing will allow internet providers to offer services to the rural population at affordable rates. As a result, all citizens will be able to enjoy the benefits of high-speed internet.
Despite the challenges caused by the pandemic, the State Internetization Programme is actively progressing. The second pilot phase has already been initiated in Kobuleti Municipality. The electronic tender for the planning and construction of broadband infrastructure in the aforementioned municipality has been announced, and the relevant procedures are being implemented.