Communications Commission publishes ComCom Digest for the Month of April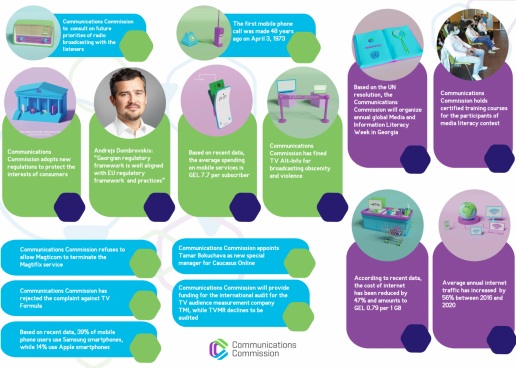 The Communications Commission has published ComCom Digest for the month of April, which provides an overview of the activities and important decisions taken by the Commission over the past month.
The first important issue presented in the latest edition of ComCom Digest concerns the new ruless adopted to protect the rights of consumers. New regulations will allow all subscribers to receive high-quality and safe communication services. Detailed information about new rulescan be found in the latest edition of ComCom Digest.
Another important announcement concerns the public opinion survey about the priorities of radio broadcasting. The Commission will ask the public to identify the aforementioned priorities.
How do international experts assess the activities of the Communications Commission, and is Georgia's regulatory system aligned with the EU regulatory framework and practices? Find out by reading ComCom Digest for the month of April.
The latest ComCom Digest also reveals why the Commission refused to allow MagtiCom to terminate the Magtifix service.
In April, the Commission also appointed Ms. Tamar Bokuchava as new special manager to Caucasus Online.
Last month, the Communications Commission held certified training for the outstanding participants of the media literacy contest "Truth or Fiction?" Furthermore, based on the resolution adopted by the UN in April, the Commission will organize annuall global Media and Information Literacy Week in Georgia.
In April, the Communications Commission announced the tender for carrying out international audit for the TV audience measurement company TMI, while TV-MR Georgia refused to be audited.
Another decision taken by the Commission last month concerns broadcasting of obscenity and violence by TV Alt-Info, for which the broadcaster was fined by the Commission. For more details, please refer to the latest ComCom Digest.
Readers will also be able to find out why the Communications Commission rejected the complaint filed against TV Formula.
What is the average monthly spending on mobile phone services, which mobile device brands do Georgians prefer, when was the first mobile phone call made, have the internet costs changed, and how did internet traffic increase between 2016 and 2020? Find out the answers to all these interesting questions in the April edition of ComCom Digest.